New Jersey Frequently Asked Questions
Most popular questions
Right now, we primarily focus on Essex, Union and Middlesex counties. If you are located in another county outside of these, please give us a call to see if we may be able assist or to direct you to the appropriate provider.

We offer both part-time and full-time services, depending on your needs and preferences.

We provide a wide range of services, including personal care, companion care, Nursing Supervision, Veterans Care, and Live-In care.
Payment options
Yes, we accept all Medicaid HMO's as well as Veterans Affairs insurance. We also accept private pay and additional grants.

The cost of our home care services varies depending on the level of care required, the length of service, and other factors. We offer free consultations to help you determine the best care plan for your needs and budget. Give us a call to find out more information.
Safety measures
At Emerest, ensuring the safety of our clients is of utmost importance to us. We have implemented several measures to maintain a safe environment. Firstly, we conduct comprehensive background checks on all our caregivers to ensure their reliability and trustworthiness. Additionally, we provide ongoing training and support to our caregivers to enhance their skills and knowledge in providing a safe care experience. We go the extra mile by having qualified nurses assess the home environment to identify any potential safety hazards and implement appropriate fall prevention measures. To ensure compliance and accountability, we have random pop-in audits conducted by our officers, including nurses, who assess the care being provided and address any concerns promptly. These combined efforts, along with unique perks for our hardworking caregivers, contribute to a robust safety framework for our clients.
Service enrollment
Simply contact us by phone or email to schedule a free consultation, or fill out a quick form. We will work with you to determine the best care plan for your needs and preferences.
Caregiver information
Absolutely! We have a team of caregivers who are specifically trained in providing specialized care for individuals with Alzheimer's or dementia. It is our priority to ensure that our caregivers possess the necessary skills and knowledge to offer the best possible care. In fact, our caregivers are mandated to complete extensive tests and educational material on a monthly basis to stay updated and well-equipped to meet the unique needs of those with Alzheimer's or dementia.

At this time, no, we cannot assist with medication management. However, our nurses do provide clients with a comprehensive assessment of their overall health.

Yes. We take pride in the qualifications of our caregivers. Each and every one of them is a licensed and trained professional, bringing years of experience in the home care industry. In fact, we have implemented a rigorous interview process that includes thorough background checks and verification of professional work references to ensure the highest quality of care for our clients.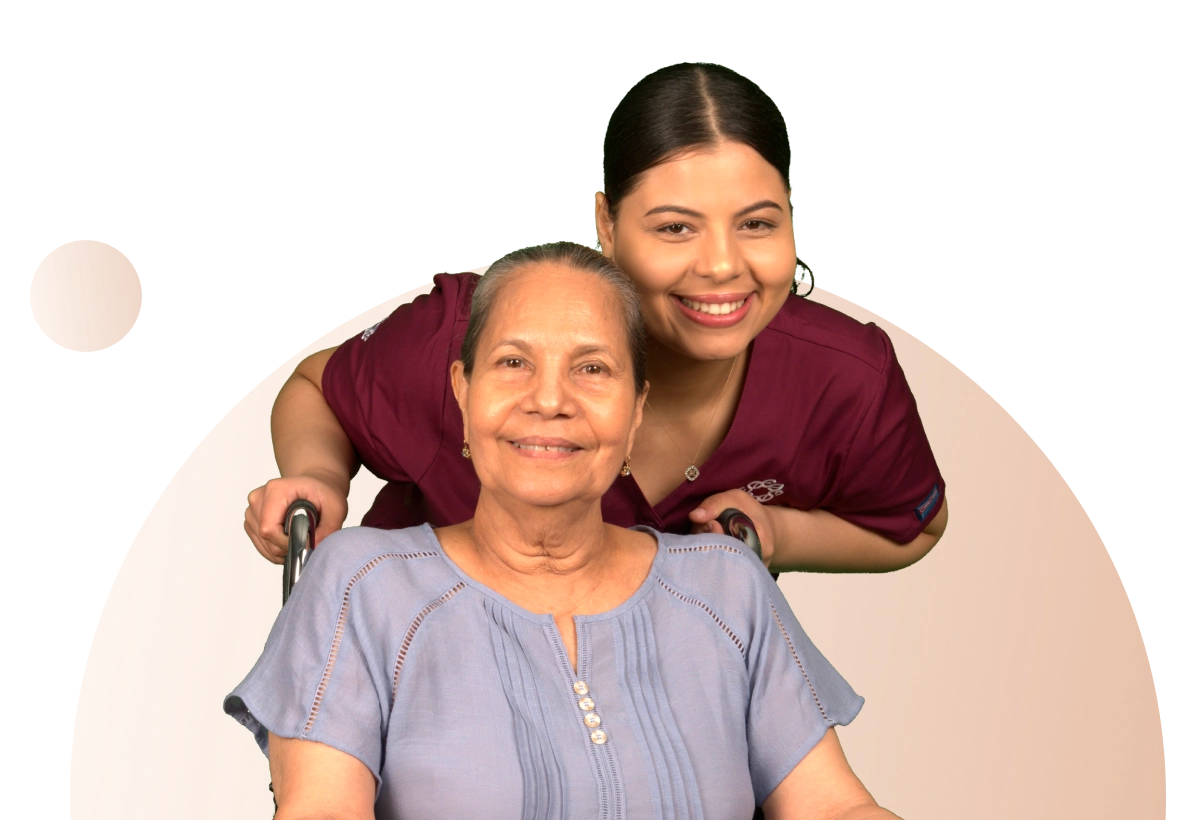 Have a Question?
Contact us and we will answer your questions